A Business Loan in Singapore Gives You Emergency Cash Flow
Thinking about starting a business? Or perhaps, you want to expand your existing business and take your profits to greater heights?
If this is what you have in mind, then a Working Capital Loan is the right loan type for you.
Business owners who are in need of emergency cash flow can benefit from these short term bridging loans.
Gone are those days where you no longer have to worry about taking out a traditional bank loan because we are here to present to you the fastest and most reliable means of securing additional capital for your business.
Rest assured, we are an official, fully licensed money lender in Singapore, recognised by Ministry of Law (Registry of Moneylenders).
Our operations comply with the Moneylenders Act and Rules.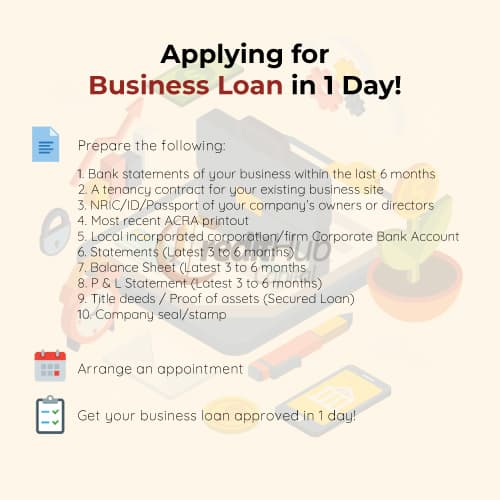 Ready to take out a business loan in Singapore?
* Credit Hub Capital reserves all the rights to amend terms & conditions without any prior notice to customers. The borrowers have no obligation to take up the loan if the loan package offered is not satisfied.
With Business Loans, Make Your Business Goals Happen Today
We understand that each business has their own unique requirements. Your particular plan for your business may not be similar to other clients of ours.
Credit Hub Capital will see to it that our small business loans are being customised according to every customer's specific concerns.
This enables us to reach out better to our customers and tailor-fit our loan services based on their specific demands. Credit Hub Capital ensures that all your business goals will be accomplished, one day at a time.
If you are a business owner in Singapore who wishes to increase your business cash flow, we can make it happen for you.
Instead of waiting for weeks or even months to have your traditional bank loan approved, you may simply check out our Start up Business Loan services for a fast approval.
We do not require any rigorous and lengthy process during the loan application.
After all, it is not our intention to make things even more tedious for you.
Business Loans for Foreigners
Keeping in mind that banks set high interest rates for all foreigners who wish to take out a loan. As this is due to the fact that several foreigners do not owe any properties in the country.
Without any collateral, the banks would consider them as a huge risk. As a result, foreigners are being charged with steep interest rates.
However, this is not how Credit Hub Capital operates day to day.
At Credit Hub Capital, we listen to your concerns and provide you with the most practical financial solution possible.
All you need to do is to complete the simple enquiry form, visit our office, or give us a call. We will be ready to set an appointment with you, in order to discuss your business loan concerns in detail.
Our loan services are diversified and extensive, and you should be able to locate the right loan option that matches your concerns.
Whether you are looking for a business expansion or simply an extra cash flow, you should find the right loan solution for your business.
Straightforward and Simple Business Loan Application Process
When your business plans cannot wait any longer, then you have come to the right place. Credit Hub understands that quick action also translates to promising effects to your bottom line. This is why we make things much simpler for our customers.
If you plan on taking out a Working Capital Loan, all you need is to fill in the online application form. Afterward, be sure to submit these documents to begin the processing of your loan application:
Bank statements of your business within the last 6 months

A tenancy contract for your existing business site

NRIC/ID/Passport of your company's owners or directors

Most recent ACRA printout

Local incorporated corporation/firm

Corporate Bank Account Statements (Latest 3 to 6 months)

Balance Sheet (Latest 3 to 6 months

P & L Statement (Latest 3 to 6 months)

Title deeds / Proof of assets (Secured Loan)

Company seal/stamp
Without the right amount of cash flow, running a business will be tough.
We want to make our loan application process as fast and as easy for you.
Most importantly, our range of professional loan services can further help you achieve your goals for your business.
Contact us today for any enquiry.